WordPress is one of the biggest success stories of both the open source and CMS world. In part this is thanks to their very active development schedule that has resulted in a steady stream of improvements, bug-fixes, security updates and new features, which have kept the community of its users satisfied and growing.
Over the past few years WordPress has maintained a fairly regular release schedule of a couple of major releases per year. In 2010, they released the long awaited version 3.0 which finally integrated the multi-blog fork of WordPress into the regular version and introduced the new default theme Twenty Ten, along with many improvements to do with custom post types. Having done that, they decided to take one release cycle off to work on community building and the WordPress forums, theme repository and other ancillary bits. So needless to say, the next major release, version WordPress 3.1, was enthusiastically awaited.

After a long schedule of beta testing and release candidates, WordPress 3.1 was officially released to the public on February 23, 2011. Here are some of its stand-out new features.
Easy linking to old posts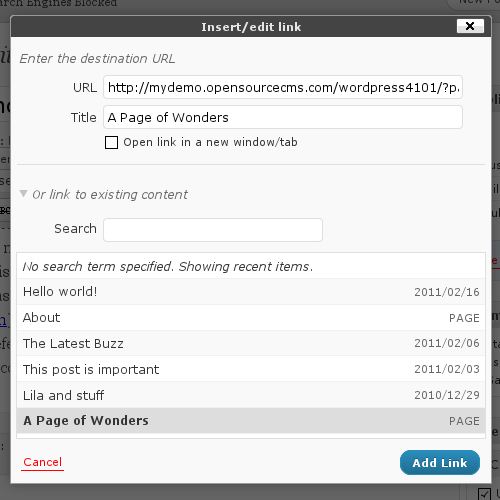 Previously, linking to your older posts was a manual process. It involved finding the URL for your old post, either by browsing to it on the site or finding its listing in the admin area, and then creating a link in the post editor. Now when you click on the link button in the editor, the Insert/edit Link dialog also includes an area to link to existing content at the bottom.
It displays a list of recent posts; Clicking on one will insert its URL and title into the required fields to create the link. You can also enter search terms to get to much older content. For those of us with long running blogs and a lot of related content that requires cross-references, this is a wonderful convenience.
Admin bar

Besides the post-specific edit link that most themes include in the front-end when you're logged in, WordPress has had a pretty strict demarcation between the front-end and back-end functionality of sites. Thus far, even logged-in users and administrators saw almost no sign of administrative options or interface elements in the publicly accessible part of their WordPress site.
This possible shortcoming has been tackled by introducing an admin bar in WordPress 3.1. This horizontal menu bar is visible to logged-in users with the appropriate permissions when they are in the front-end of the site. In the multi-site WordPress install, it remains visible even in the admin area, to access network-wide functions. The admin bar has drop down menu options that allow quick access to commonly used admin area screens such as adding new posts and pages, comments, profile and appearance settings.
Minimal writing interface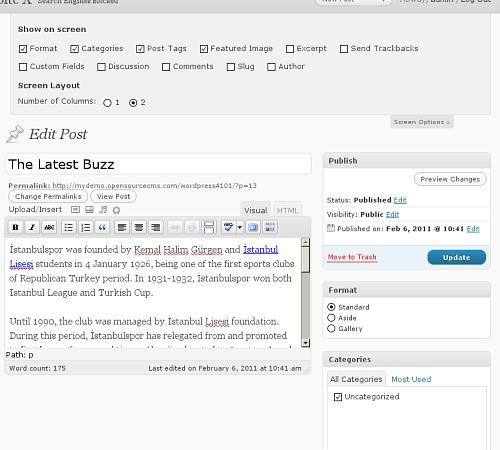 This is not a new feature, just a new set of default settings that should make a big difference to beginners in the WordPress world. For quite a few versions now, the admin interface has allowed you to customise the contents and order of the widgets on most screens to adapt the interface to individual usage patterns. As post features have increased the number of widgets displayed on the post editor screen have been growing into a long list that clutter the screen and can be confusing to less technical users.
To reduce this clutter, many of the extra widgets on the editor screen are now switched off by default. Categories, post tags and featured image remain, while comments, custom fields and excerpts (among others) are off. Advanced users can still switch on the extra settings by using the Screen Options tab at the top right.
Post formats

As the idea of what sort of media and content blogs can include has grown, there has been a growing need to differentiate different kinds of blog posts visually. Services like Tumblr are popular in no small part for their ability to differentiate between posting a link or an image or a quote, for example.
Many have hacked similar behaviour into WordPress in the past using custom variables and the like but now a mechanism has been included into the core system. Post formats are a piece of meta information you can set for the post. A post can be set to be an aside, or a gallery, or any one of the available list of formats. These can then be used by the theme to style specific posts in different ways based on a CSS class rule or similar. Since there is a fixed list of formats, themes can be designed to accommodate these specifically, making them much more interchangeable and universal between blogs. A great step in the right direction.
Sortable list screens

In keeping with the theme of improving the administrative interface, the list screens for pages and posts are now sortable by the column values, with a simple click on the column heading. So beyond the default recent-post-first format, you could now display the list in alphabetical order of titles or reverse date order, or alphabetic order of category names etc. This makes it infinitely easier to track down old posts without having to dig back date-wise through many pages of post listings. A simple but immensely practical improvement to the interface.
Refreshed blue admin colour scheme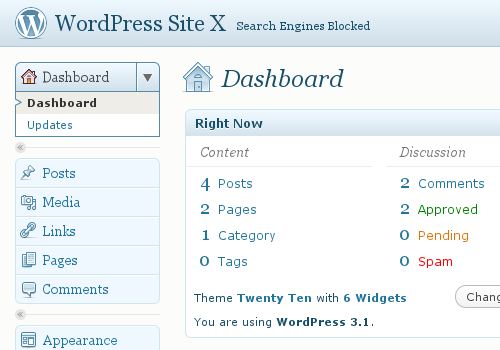 On a completely aesthetic note, the alternative blue colour scheme for the admin interface has been tweaked and updated. I'm sure many don't even know of this option to change the colour scheme in their profile settings. The blue scheme was the default for one or two versions, if I remember right, before WordPress changed to this much starker and minimal grey look. With all the new options and interface elements that are constantly being added with every new version. It's good to see attention being given to these smaller issues as well.
---
Those were the major highlight changes, which will make a difference to most regular users of WordPress. The ones that follow are just as important, maybe more so in some cases, but they are of a more technical nature and won't come into play unless you are a a developer or advanced user who needs to access and utilise these new capabilities built into the core. The rest of us will still benefit through enhanced plugins and themes as a result.
Network Admin
In multi-site WordPress installs, all the spread-out Super Admin menus and pages have been now consolidated under a Network Admin menu and screen, where new sites can be added and administered, along with managing other network wide settings.
Exporter/importer enhancements
The exporter and importer functionality has been overhauled to properly handle recent additions such as navigation menus and taxonomies, and do more complete dumps of all the data of a blog, including author information.
Custom content type improvements
Custom content types have been improving with every minor version update in WordPress. This time custom-type specific archive pages have become a reality. Very useful for complex CMS functionality and the more adventurous blogger. Better menu support for custom types has also been added.
Advanced queries
Developers now have the ability to query based on multiple taxonomies and custom fields. This sounds like nothing when written in the sentence but the infinite practical applications it opens up for theme and plugin developers is big. I'm sure we'll start to see the results in much more customisable listings and user experiences in site themes soon enough.
---
My impressions of WordPress 3.1
The release announcement for WordPress 3.1 highlighted the fact that WordPress is now a better CMS than ever. This is very true and has been true of every new release over the past couple of years. WordPress has matured a lot over time, and accordingly its focus has matured too. Many of the big improvements in this version have to do, not with creating some new cool feature, but rather in finding more ways and ever more flexible ways of getting to all the data and posts that already exist in your blog's database. Whether in the admin interface or in the functions and queries available for developers to tinker with, this seeking, finding and choosing of content on the site seems to be a general theme of this release and certainly a big step in making it a very serious general-purpose CMS.
WordPress 3.1 improves the administrative experience and allows developers more options to improve the site user experience. It's a win-win situation all around.